SmartForm Inspector is an advanced tool for users of K2 Designer. Compatible with K2 4.7 and K2 Five, it provides a faster way of viewing rules in a format that is easier to read and understand. With SmartForm Inspector, users can search rules for a specific term. Easily remap a form or view to use different SmartObjects as data sources or for lookup. Automatically generate easy-to-read portable documentation and output a form/view definition as XML to allow easy comparison and identification of differences across versions. < more >
---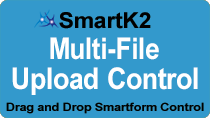 K2 out of the box SmartForms provide a one-at-a-time file upload capability. This can be tedious for users who need to upload many files. With drag and drop functionality, the Multiple File Upload Control makes it easy for users to upload many files in one go with a minimum of mouse clicks. < more >
---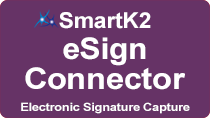 The SmartK2 eSign Connector works with DocuSign or Adobe Sign. In addition to standard eSignature functionality, SmartK2 eSign allows a signing document to take the place of a workflow task form. While signing, signers can select a workflow action such as approve, deny, or rework, and optionally enter comments. Subsequent workflow routing is determined by the action selected. Comments entered on the signing form show in the workflow task action history for easy reference and reporting. SmartK2 eSign also allows sending attachments to the signer in the same email as the document to be signed. SmartK2 eSign includes a convenient Signing Admin Dashboard which shows the status of all signing documents and allows an admin to easily intervene in the signing process when needed. < more >
---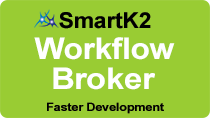 The SmartK2 Workflow Broker facilitates true Rapid Application Development of K2 applications. The SmartK2 Workflow Broker includes a set of SmartObjects, SmartForm templates, design patterns, and tutorials that slash development time from weeks to days, while putting testing, troubleshooting, and deployment on a fast track. No one should develop K2 applications without this. < more >
---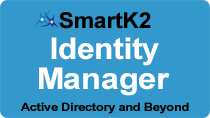 The SmartK2 Identity Manager is a K2 security provider that uses Auth0, the world's #1 authentication-as-a-service platform. The Auth0 service allows non-Active Directory users to authenticate using social media and fully participate in K2 workflow origination and task assignments. Where users have multiple identities from a number of such providers, including Active Directory, Azure Active Directory, SharePoint, and social media, The SmartK2 Identity Manager automatically maps a user to his "main" identity, thereby avoiding confusion over task assignments and permissions. The underlying Auth0 service also works in a similar way for non-K2 applications.
---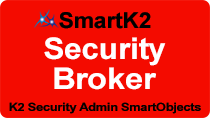 The SmartK2 Security Broker provides a service broker, SmartObjects, and SmartForms needed extended K2 Admin capabilities to include features that are not found with K2 out of the box components. Forms that are included with the service broker make K2 Admin operations easy.
K2 Identity Cache Management
Export K2 Category Permissions
Export/Import Category Permissions
Object Permission Rights Report
Users by Role Report
K2 Role Manager Service
---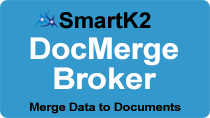 The SmartK2 DocMerge Broker uses FormStack WebMerge Software as a Service (SaaS). This broker Provides SmartObject methods that merge SmartObject data into a document template, resulting in a finished document in the selected format, such as MS Word, PDF, JPEG, etc. The merged document can automatically be sent to specified email addresses, and/or returned for saving to an application database.
---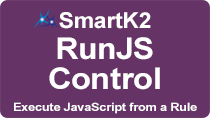 The SmartK2 RunJS Control is a FREE SmartForm Control that gives form designers a way to execute JavaScript functions from a rule in a K2 SmartForm. Form designers often inject JavaScript snippets into a form or view using a data label control. The RunJS control is similar to a data label with an important difference. The RunJS control has a JavaScript on change event that calls the JavaScript function named in the text property of the control. If we transfer a function name and parameters to the control, the function is executed immediately. This provides a way to execute a custom JavaScript function from within a rule in a form or view. The RunJS control therefore allows us to let SmartForm events and conditions determine if and when a JavaScript function is executed, and to also map JavaScript function parameters using SmartForm expressions. It is a very simple custom control and yet makes it easy to leverage JavaScript even for non-JavaScript developers.